Consolidated Financial Highlights
For the Year
Millions of Yen
| | 2012/3 | 2013/3 | 2014/3 | 2015/3 | 2016/3 | 2017/3 |
| --- | --- | --- | --- | --- | --- | --- |
| Net sales | 99,894 | 105,311 | 116,824 | 120,401 | 142,249 | 143,541 |
| Operating income | 9,891 | 12,054 | 15,190 | 16,041 | 18,640 | 13,514 |
| Ordinary income | 9,443 | 12,976 | 16,830 | 20,206 | 19,439 | 14,806 |
| Net income | 5,415 | 7,127 | 8,733 | 11,851 | 13,044 | 11,010 |
At Year-End
Millions of Yen
| | 2012/3 | 2013/3 | 2014/3 | 2015/3 | 2016/3 | 2017/3 |
| --- | --- | --- | --- | --- | --- | --- |
| Total assets | 235,151 | 253,861 | 300,774 | 390,832 | 407,430 | 421,606 |
| Net assets | 64,883 | 73,145 | 81,395 | 104,769 | 112,515 | 118,379 |
Per share data
Yen
| | 2012/3 | 2013/3 | 2014/3 | 2015/3 | 2016/3 | 2017/3 |
| --- | --- | --- | --- | --- | --- | --- |
| Net income (basic) | 57.97 | 75.38 | 89.71 | 120.30 | 123.34 | 103.40 |
| Net income (diluted) | 57.86 | 74.62 | 84.59 | 108.69 | 112.81 | 95.09 |
| Net assets | 628.19 | 686.85 | 758.35 | 963.99 | 1,019.35 | 1,068.20 |
| Cash dividends | 20 | 27.5 | 31 | 43 | 46 | 46 |
Financial Indicators
%
| | 2012/3 | 2013/3 | 2014/3 | 2015/3 | 2016/3 | 2017/3 |
| --- | --- | --- | --- | --- | --- | --- |
| Return on assets (ROA) | 2.3 | 2.9 | 3.1 | 3.4 | 3.3 | 2.7 |
| Return on equity (ROE) | 9.5 | 11.4 | 12.4 | 13.6 | 12.5 | 9.9 |
| Payout ratio | 34.5 | 36.5 | 34.6 | 35.7 | 37.3 | 44.5 |
In this document, "fiscal year" refers to the year ended/ending March 31.
Figures in this document denoted in millions are rounded down to the nearest million yen.
The figures in per share data and financial indicators are rounded to the nearest decimal place.
A 1-for-2 stock split has been conducted as of January 1, 2014.The figures in per share data is shown a numerical value calculated based on the stock split.
Accounting policy is changed in March 2015 period. The year ended March 31, 2014 will display the ones after the retroactive adjustment .
Net sales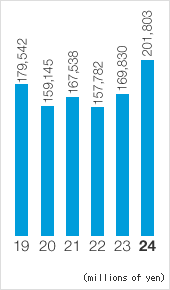 Operating income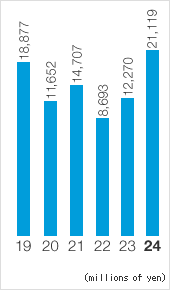 Net income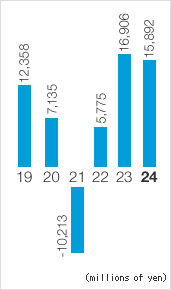 Total assets/
Net assets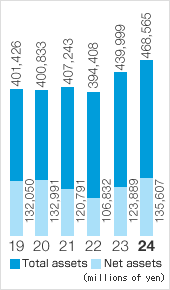 Net Sales by Segment
(Millions of Yen)
| | 2012/3 | 2013/3 | 2014/3 | 2015/3 | 2016/3 | 2017/3 |
| --- | --- | --- | --- | --- | --- | --- |
| Membership operations | 29,199 | 28,418 | 36,274 | 33,590 | 46,282 | 42,530 |
| Hotel and restaurant operations | 52,184 | 54,765 | 62,303 | 65,462 | 72,817 | 74,193 |
| Golf operations | 7,607 | 8,671 | - | - | - | - |
| Medical operations | 10,455 | 12,698 | 17,341 | 19,746 | 21,806 | 25,702 |
| Other operations | 447 | 757 | 904 | 1,602 | 1,344 | 1,114 |
| Total | 99,894 | 105,311 | 116,824 | 120,401 | 142,249 | 143,541 |
Operating Income by Segment
(Millions of Yen)
| | 2012/3 | 2013/3 | 2014/3 | 2015/3 | 2016/3 | 2017/3 |
| --- | --- | --- | --- | --- | --- | --- |
| Membership operations | 3,684 | 3,951 | 6,251 | 6,230 | 9,898 | 6,988 |
| Hotel and restaurant operations | 4,902 | 4,826 | 4,930 | 4,906 | 4,567 | 3,010 |
| Golf operations | 249 | 617 | - | - | - | - |
| Medical operations | 827 | 2,334 | 3,755 | 4,287 | 3,629 | 3,011 |
| Other operations | 226 | 323 | 253 | 617 | 545 | 503 |
| Total | 9,891 | 12,054 | 15,190 | 16,041 | 18,640 | 13,514 |
※Along with organization changes effective from Aplil 1, 2014 ,segmentation was changed on and after the fiscal year ending March 31. 2015.The year ended March 31, 2014 will display the ones after the retroactive adjustment
Net Sales by Segment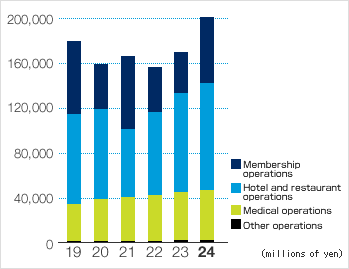 Operating Income by Segment