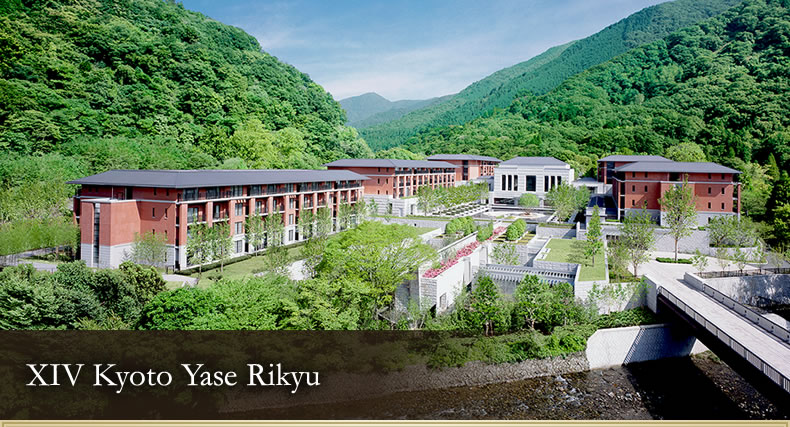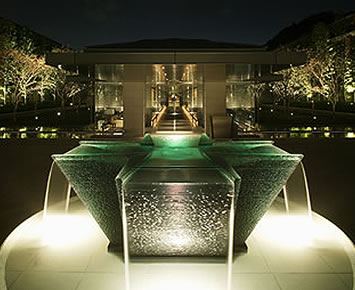 Yase, nestled in a valley below Mount Hiei.
At XIV Kyoto Yase Rikyu you can see tranquil village scenes that counterpoint the elegant culture of the ancient capital.
Suited to the area, the building concept–Rikyu classic contemporary–fuses traditional Kyoto craftsmanship with modern design. While the outer walls are finished in traditional red ochre, inside, the thoroughly contemporary architectural design everywhere integrates the old and the new. It would truly be suitable as a modern imperial villa. The nearby mountains provide a seasonal backdrop of vibrant colour.
Gracing this villa are three garden areas, Grid Court, Linear Garden, and Landscape Garden.
Linked by gentle water that flows through the estate, each outdoor area transitions to the next. The source, near the building entrance, is in stone-walled Grid Court. Here, centrally placed, looking like a beautiful ice sculpture, is a cascade from which issues a never-ending stream of water. Tying together the outer to the inner, this water flows from Grid Court to Linear Court, where it pools in an area embraced by buildings. Beyond, the character changes for the final time in Landscape Garden.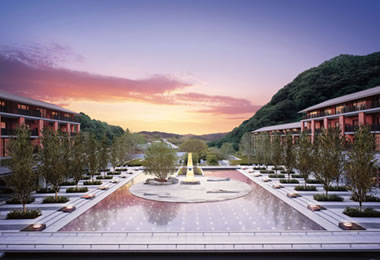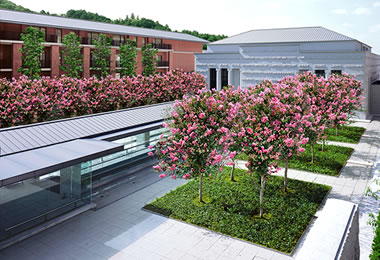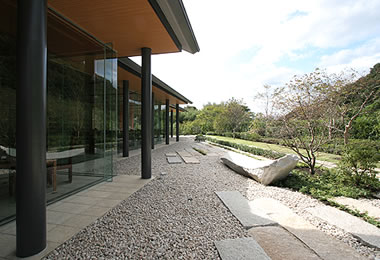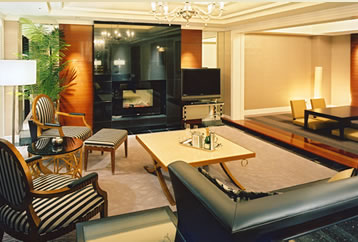 Conceived as an integrated whole, the building based classic contemporary design that combines Japanese and Western styles. Helping to achieve a settled atmosphere, black is worked into a scheme of yielding colours.
Highlighted by polished granite, each of the four types of room has a majestic design.
Destined for accommodations with bedroom and Japanese seating areas, you can look forward to stretching out in comfort during your stay.
Along with the comfortable functionality of the accommodations, the beauty of the interior design helps to restore your spirits during a leisurely stay.

As well as fresh seafood and famed Kyoto vegetables, local cuisine features varied ingredients, including shoots and roots gathered in the mountains.
At XIV Kyoto Yase Rikyu, whether you choose Japanese, Italian, Chinese, or French dining, you can be sure of enjoying select food prepared by seasoned chefs.
Enjoy delectable dishes that combine tradition and innovation, each one crafted with skill and artistry from fine ingredients. In the refined luxurious space of whichever distinctively different restaurant you choose, your dining pleasure is enhanced by a view over the gardens.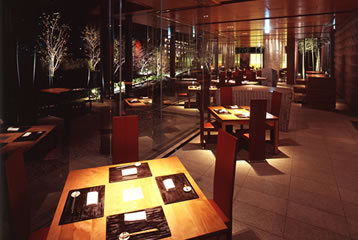 | | |
| --- | --- |
| Site area | 356,098.49 sq. ft. (33,117.16 m²) |
| Garden area | 422,823.44 sq. ft. (39,322.58 m²) |
| Accommodations | 210 rooms |
| Other facilities | Japanese restaurant (teppanyaki counter), French restaurant, Italian restaurant, Chinese restaurant, lobby and lounge, bar, spa, aesthetic salon, pottery room, kids' room, shop, convention hall, amusement corner, music room. |
| Date of opening | 28 November 2006 |